A b o u t M a s t o n P r o p e r t i e s a n d C o n s t r u c t i o n
The owner of Maston Properties and Construction has been building new homes in Snohomish and King Counties for more than nine years. Projects have included custom waterfront homes as well as townhouse, condominium and single family developments. Although our homes typically sell in a wide range from the mid $200's to the mid $700's, each is carefully built with close attention to a level of detail most common when the owner of the construction company is personally involved on site. Quality and pride of workmanship, evident throughout our products, reflect the personality and character of our builder who employs experienced and capable job-site foremen. He is experienced in both new construction and custom remodels, and his background is reflected in the careful planning and execution of both home design and livability.

We invite you to come visit our new homes to see our quality which meets or exceeds industry standards. Homes built by Maston Properties and Construction include many features commonly considered upgrades by others in the industry.


| | | | |
Copyright © 2017 Maston Properties and Construction, LLC
In an effort to continually improve our product, Maston Properties and Construction reserves the right to
modify maps, home designs, specifications, and pricing without notice or obligation.
Any dimensions and square footages are approximate.

A b o u t M a s t o n P r o p e r t i e s a n d C o n s t r u c t i o n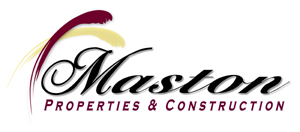 Maston Properties & Construction