H o m e C a r e & W a r r a n t y
Your home has been built to meet or exceed Maston Properties and Construciton performance standards. Properly maintained, your home will serve you for many years to come.
We have prepared the Home Care and Warranty Guide to assist you in understanding the Limited Warranty and how any requests for warranty repairs are to be evaluated. It will help you understand the performance standards and the obligation Maston Properties and Construciton has to you under the Home Builder's Limited Warranty. It also explains what maintenance obligations you will have as the homeowner under this Limited Warranty.
Residential Warranty Corporation
1-6 Year Warranty Booklet
Copyright © 2017 Maston Properties and Construction, LLC
In an effort to continually improve our product, Maston Properties and Construction reserves the right to
modify maps, home designs, specifications, and pricing without notice or obligation.
Any dimensions and square footages are approximate.

| | | | |
H o m e C a r e & W a r r a n t y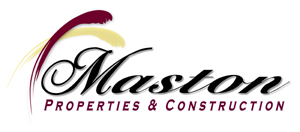 Maston Properties & Construction